FC can't connect to configurator, or can't go into DFU mode.
Red/Blue/Green LEDs light up/blink normal when FC booting, but FC can't connect to configurator, or can't go into DFU mode.
Intall DFU and STM VCP drivers, Click Installing Betaflight/INAV for details
Unplug USB and close configurator,  plug USB back in and run configurator again.
Try other USB cables
Check if there is dry joint on USB connector pins
If GPS or other peripherals are connected to UART1 or UART3 of F4/F7/H7 chip and these peripherals are powered ON while connecting USB.   FC can't enter DFU mode. It is related to DFU protocol used in the STM32 bootloader, not hardware and PC driver issue.
There is known bug that INAV configurator Chrome version can't flash firmware in DFU mode.
Red LED(3v3 indicator) doesn't light up
Pls take a few high resolution and in-focus photos of Flight Controller still installed and wired,  then you can take it apart.  These photos will be a huge help for troubleshooting if you decide to email us for service.
No LED light up and F4/F7/H7 chip heat up fast after connecting USB or battery
Finger can't touch MCU surface or LDO3.3V chip for more than 1 second,  Most likely MCU is dead, there is short circuit in core of MCU.
Click  wiki for details
If you have hot air work station,  you might replace MCU.   Flashing it in DFU mode after replacing MCU.
Red LED(3v3 indicator) doesn't light up when connecting FC USB to PC

Disconnect USB, then test the resistance/continuity between 3v3 and G, 4v5 and G
If there is continuity between 3v3 and G

Double check if there is solder ball/splash on the capacitors/MCU pins
Unsolder/Disconnect all peripherals from FC board, test it again.

If there is continuity between 4v5 and G

Unsolder/Disconnect all peripherals from FC 4v5 rail, test it again.

If no continuity

Try another USB cable
Check if there is dry joint on USB pins
Flight controller can power on via USB,  but can not power on via battery.

Usually it is caused by short circuit on 5V rail or faulty 5V regulator.
Test the continuity/resistance between 5V and G without any battery and USB connected.

If you have wired some peripherals to the board,  Unsolder/Disconnect all peripherals from 5V rail,  Test the continuity again.
If no continuity between 5V and G,   test the voltage on 5V and 4v5 pad while connecting battery only.
FC hang when booting
Double check if FC is flashed with right Target.
Reflash it with full chip erase selected.
DO NOT try to use a diff or dump from other versions.
In particular check devices on the I2C bus. Errors with that bus (magnetometer, barometer, AirSpeed) tend to really screw with the operation of the FC in a way.

check I2C devices wiring(SCL-SCL, SDA-SDA),  and check if I2C devices are powered on when FC initialization.
Try desoldering/disconnecting I2C devices from FC board to see if FC can boot normal.
Reflash FC with full chip erase selected,  CLI "defaults" after reflashing, then reconfigure I2C devices in configurator.
or set I2C speed in INAV configurator

Some I2C sensors are reported to work unreliably on default 400kHz speed. INav allows to reduce I2C clock rate to 200kHz and 100kHz to allow these picky sensors to function properly.
If compass sensor is not recognized or hangs when setting, please try CLI command "set i2c_speed = 200KHZ"  before reporting a bug.
Red LED lights up, Blue and Green LED blink alternately three times
Gyro/Acc can't be detected when FC initialization.
Check if FC is flashed with right Target
Check if there is solder ball/splash on Gyro chip, or solder ball/splash on capacitors nearby Gyro
Servos don't work with INAV firmware
Make sure INav firmware version is compatible with configuration version,  e.g. use configurator 2.5.x for firmware_2.5.x
Check if motor and servo output is enabled in "configuration" tab.
Check if servo mixer is configured in "Mixer" tab.
Don't enable "External PWM servo driver"
WING series FC

Test the voltage between "Vx" and G when FC is powered via battery.

If no voltage on Vx rail, disconnect/desolder all servos from Vx rail, test it again.

Other series

Test the voltage on servos power source, e.g. 5V

There is a known issue that some 433/900M transmitters/receivers could interfere servos.  put them far from servos, or try 2.4G radio system.
GPS doesn't work
Red(inav)/Gray(BF) GPS icon at top of configurator

Check GPS wiring and cables continuity, GPS TX – FC RX, GPS RX – FC TX
Check if GPS module is powered on.
Check if GPS is configured on proper Uart in Ports Tab.
Check GPS protocol in configuration tab, usually use UBLOX protocol for most of GPS modules.
Try swapping protocol from ublox to NMEA, or from NMEA to ublox.

Blue(inav)/Bright(BF) GPS icon at top of configurator, no satellites signal

Put GPS nearby windows or outdoor
Check if GPS is interfered by HD cameras(Gopro, Split, etc), try turning off HD camera before GPS 3D fix.
Connect GPS to USB-TTL module, use U-center to revert GPS to default configuration,  then check the GPS status in u-center.

Revert GPS to default configuration

Install U-Center software
Attach your GPS to a USB-UART adapter(USB-TTL module, CP210x, FTDI, etc) and connect it to your computer.
Launch U-Center software. Clicking the connect button and choosing the correct serial port and baudrate shall make the software connect with the GPS and displaying received data in the data view window contiuniously. If nothing appeared, check your connection and serial port parameters and try other baudrate.
Open the configuration view by pressing F9.
Navigate to UBX -> CFG -> CFG and select "Revert to default configuration" and click "Send" button located on the bottom.
I2C errors
If the I2C errors doesn't keep going up after boot. that is normal.
The errors occur during initialisation before the I2C speeds are all set up right.
Flight controller Power Circuit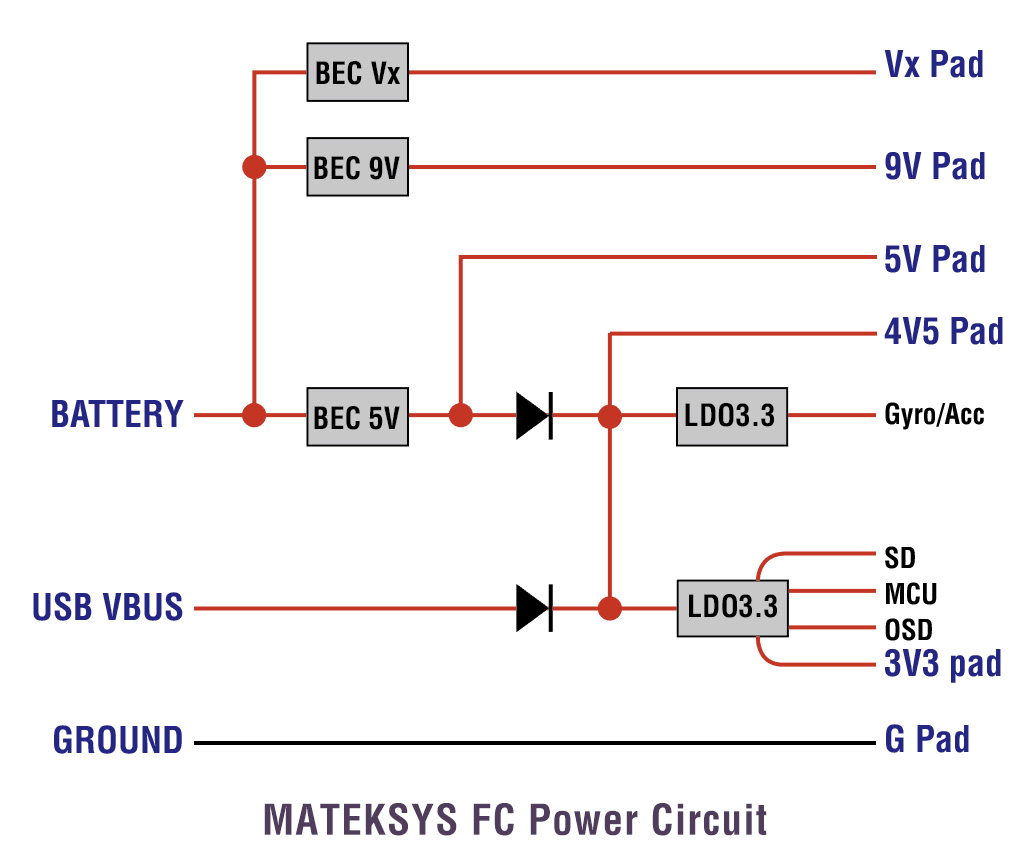 *** F405-STD, F722-STD & F405-mini have no 5V regulator builtin.  They need to be powered up via external 5V source. VCC pad on these FC are for battery voltage detection only.
OSD flickering
Need low ESR capacitor on your ESC to absorb the BEMF switching noise.
4in1 ESC,  one 1000uF
4x individual ESC,  220uF~330uF per ESC
Rubycon: ZLH,  ZLG,  ZLQ series
Panasonic: FM, FR series
Nippon Chemi-con: KZM series
Nichicon: UHV series
Conformal coating
We have got a few reports that coating caused short circuit between power rails, and resistance changing between MCU pins.

Not sure what coating material you are using.  Conformal coating is not recommended before you confirm every function works well.
DJI Air unit OSD
DJI Air unit can work with any spare UART of any flight controllers supported by Betaflight/INAV/ArduPilot
————————————–