Flight Controller F405-CTR
STM32F405, MPU6000, BMP280, BFOSD, SD Card Slot, VCP+5x UARTs, PDB, Current Sensor 184A, BEC 5V/2A
Album & INFO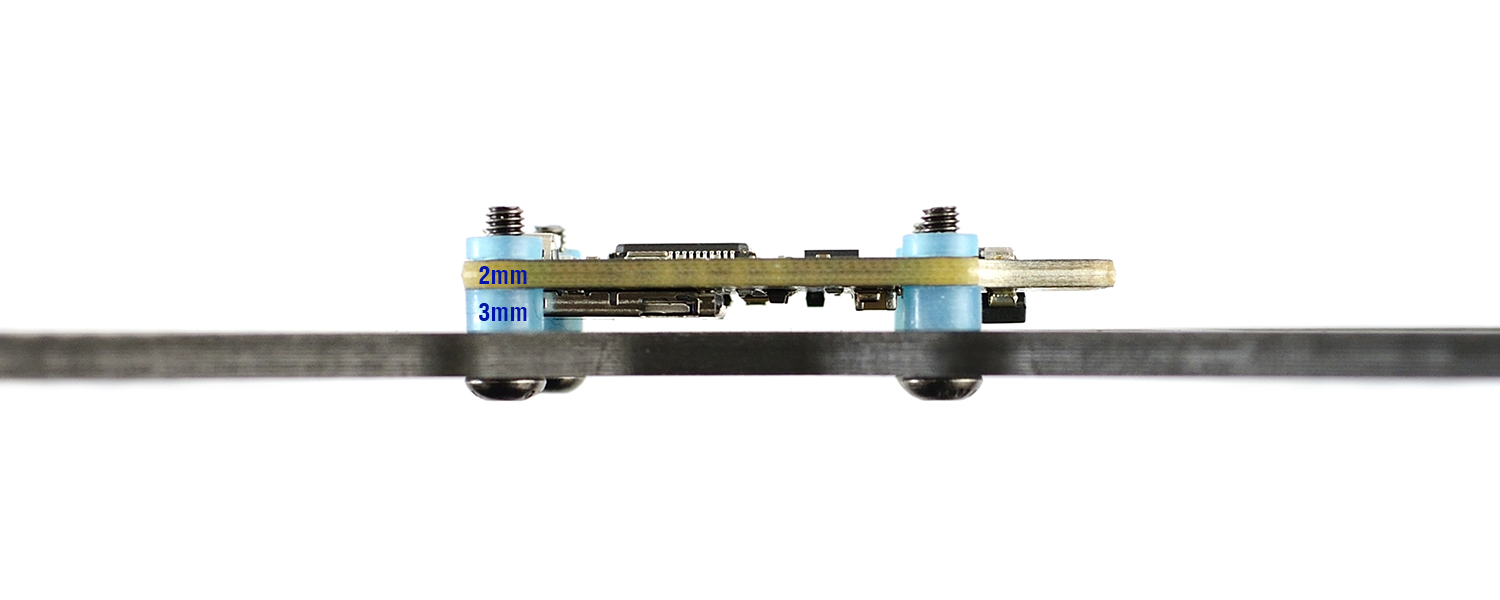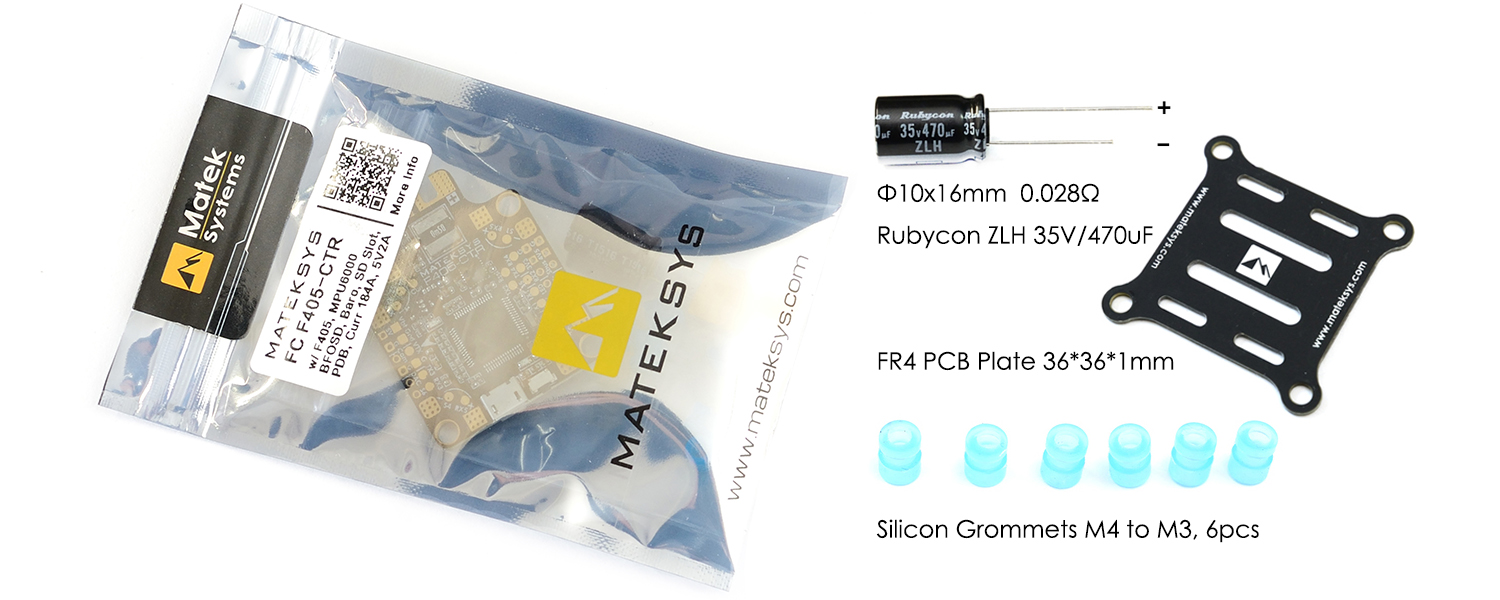 Spec.& Features
FC Specifications
MCU: 168MHz STM32F405
IMU: MPU6000 accelerometer/gyro (SPI)
Baro: BMP280 (I2C)
OSD: BetaFlight OSD w/ AT7456E chip
Blackbox: MicroSD card slot (SD/SDHC)
VCP, UART1, UART2, UART3, UART4, UART5
Built in inverter for SBUS input (UART2-RX)
PPM/UART Shared: UART2-RX
SoftSerial on TX2, S5 or S6 optional
Camera control on S6 or DAC optional
Smartaudio & Tramp VTX protocol supported
WS2812 Led Strip : Yes
Beeper : Yes
RSSI: Yes
PDB Specifications
Input: 6~30V (3~6S LiPo) w/TVS protection
PDB: 4x30A (Max.4x46A), 6 layers*2oz copper PCB
BEC: 5V 2A cont. (Max.3A)
LDO 3.3V: Max.300mA for Spektrum RX
Current Sensor 184A (Scale 179)
Battery Voltage Sensor: 1:10 (Scale 110)
3x LEDs for FC STATUS (Blue, Red) and 3.3V indicator(Red)
6x PWM / DShot outputs without conflict
5x UARTs
1x Group of  G/S1/S2/S3/S4 pads for 4in1 ESC Signal/GND
4x pairs of corner pads for ESC Signal/GND connections (DSHOT compatible)
1x pair I2C1 pads
1x Side-press button for BOOT(DFU) mode
36x46mm PCB with 30.5mm mounting holes
10g
w/ 1x Rubycon ZLH 35V/470uF (Low ESR)
w/ 6x silicon grommets M4 to M3
w/ 1x FR4 PCB Plate 36*36*1mm
BF Wiring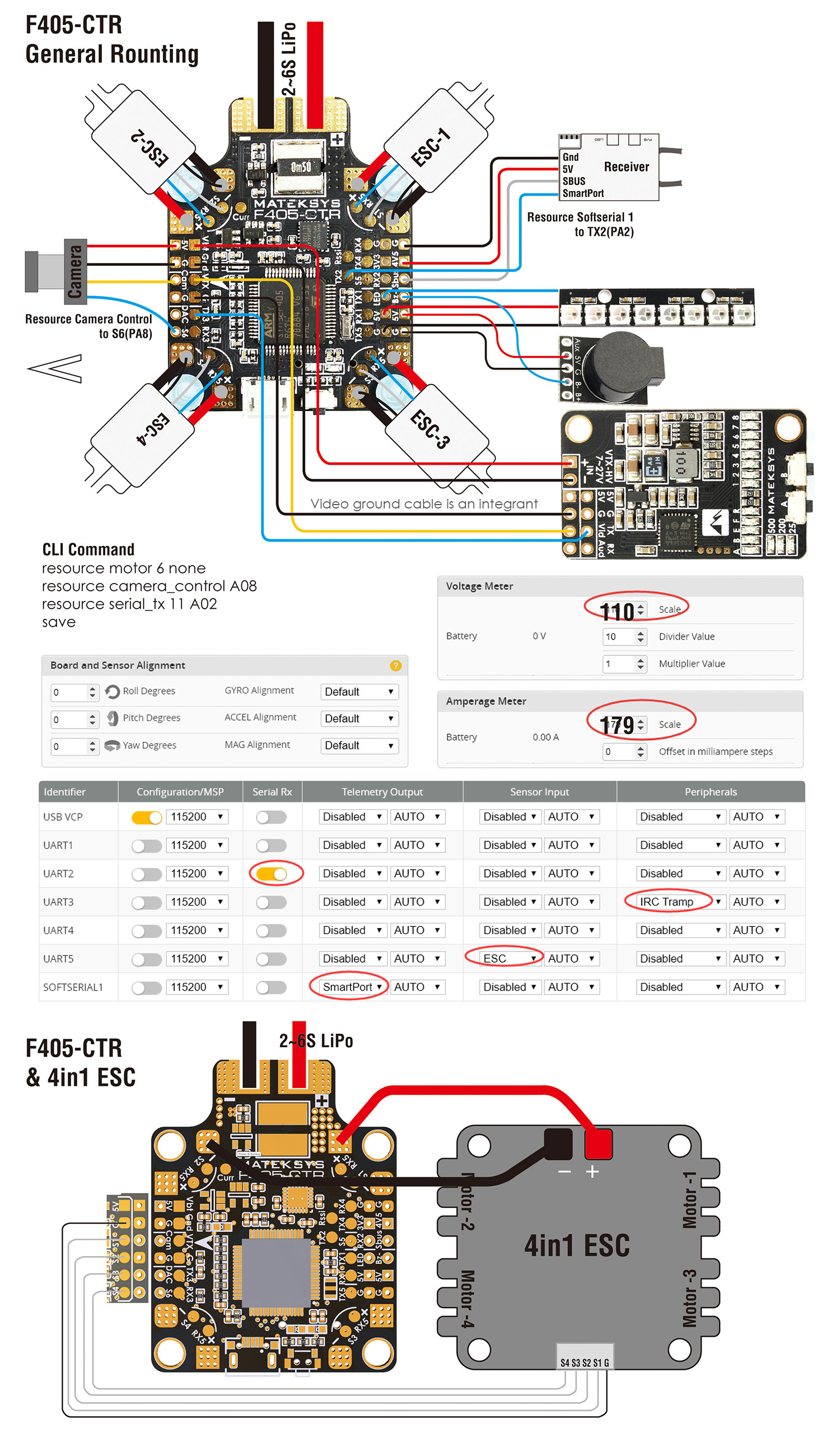 BF Pins Definition
| | | | |
| --- | --- | --- | --- |
| Pad/Hole | PIN | TIM | Resource option |
| PPM | PA3 | TIM5_CH4 | |
| S1 | PC6 | TIM3_CH1 | |
| S2 | PC7 | TIM8_CH2 | |
| S3 | PC8 | TIM8_CH3 | |
| S4 | PC9 | TIM8_CH4 | |
| S5 | PA15 | TIM2_CH1 | LED_STRIP, serial_tx 11 |
| S6 | PA8 | TIM1_CH1 | camera_control |
| 2812 LED Strip | PB6 | TIM4_CH1 | |
| TX4 | PA0 | TIM5_CH1 | serial_tx 12 (BF3.2.3 or last) |
| RX4 | PA1 | TIM5_CH2 | serial_rx 12 (BF3.2.3 or last) |
| TX2 | PA2 | TIM9_CH1 | serial_tx 11 (BF3.2.3 or last) |
| DAC | PA4 | | |
S5 (PA15) or TX2 (PA2) can be resourced to softserial for Frsky SmartPort

2812LED_Strip share I2C1_SCL pad as default.  either enable LED_Strip, or enable Baro.

2812LED can be resourced to S5 (PA15) if using Baro the same time with BF firmware

S6 pad (PA8) can be resourced to Camera Control
CLI command
resource motor 5 none
resource led_strip 1 A15
resource motor 6 none
resource camera_control A08
resource serial_tx 11 A02
save
INAV Pins Definition
| | | | | | | |
| --- | --- | --- | --- | --- | --- | --- |
| Pad/Hole | Pin | Inav | INav | INav | INav | INav |
|   |   | Tricopter | Quad X | Hex X | Flying Wing | Airplane |
| PPM/RX2 | PA3 | | | | | |
| S1 | PC6 | servo-1 | motor-1 | motor-1 | motor-1 | motor-1 |
| S2 | PC7 | motor-1 | motor-2 | motor-2 | servo-3 | servo-3 / Elev |
| S3 | PC8 | motor-2 | motor-3 | motor-3 | servo-4 | servo-4 / Aile |
| S4 | PC9 | motor-3 | motor-4 | motor-4 | | servo-5 / Aile |
| S5 | PA15 | 2812LED | 2812LED | motor-5 | 2812LED | 2812LED |
| S6 | PA8 | | | motor-6 | | servo-6 / Rudd |
| LED | PB6 | / | / | / | / | / |
Firmwares & Downloads
Drivers & Softwares
BetaFlight Github
BetaFlight Firmware
INavFlight Github
INAV Firmware
INAV 1.9.1 or newer,  Softserial1_TX on TX4 pad for Frsky Smartport if CPU based serial port is enabled.
telemetry_inversion = OFF by default in 1.9.1 or newer. it works
Tips
CLI "defaults" after reflashing
S5 (PA15) or TX2 (PA2) can be resourced to softserial for Frsky SmartPort
2812LED_Strip share I2C1_SCL pad as default.  either enable LED_Strip, or enable Baro.
2812LED can be resourced to S5 (PA15) if using Baro the same time with BF firmware
Put a piece of sponge on the barometer to reduce the impact of airflow.