Flight Controller F405-SE
STM32F405RET6, MPU6000, DPS310, OSD, SD slot, 6x UARTs, 2x I2C, 9x PWM outputs
Spec. & Manual
---
Specifications
MCU: 168MHz STM32F405RGT6
IMU: MPU6000 (SPI)
Baro: DPS310 (I2C)
OSD: AT7456E (SPI)
Blackbox: MicroSD slot (SPI)
VCP & 6x Uarts, 1x Softserial_Tx supported
9x PWM outputs (7x Dshot compatible with BF/INAV)
2x I2C
3x ADC (voltage, current, RSSI)
4x RX6 pad(one per corner) for BLheli32 ESC telemetry
4x individual ESC power/signal pads
1x Group of  G/S1/S2/S3/S4 pads for 4in1 ESC Signal/GND
3x LEDs for FC STATUS (Blue, Green) and 3.3V indicator(Red)
Built in inverter on UART2-RX for SBUS input
PPM/UART Shared: UART2-RX
Vbat filtered output power for VTX
Camera control: Yes
Smartaudio & Tramp VTX protocol: Yes
DJI FPV OSD protocol: Yes
WS2812 Led Strip : Yes
Beeper : Yes
RSSI: Yes
PDB Specifications
Input: 6~36V (2~8S LiPo) w/TVS protection
PDB: 4x35A (Max.4x46A)
BEC: 5V 2A cont. (Max.3A)
LDO 3.3V: Max.200mA
Current Sensor 184A (Scale 179 in INAV/BF)
Battery Voltage Sensor: 1K:10K
Firmware
INAV: MATEKF405SE
BetaFlight: MATEKF405SE
ArduPilot: MATEKF405-WING
Physical
Mounting: 30.5 x 30.5mm, Φ4mm with Grommets Φ3mm
Dimensions:  36 x 46 mm
Weight: 10g
Including
1x F405-SE
6x silicon grommets M4 to M3
1x FR4 PCB Plate 36*36*1mm
1x Rubycon ZLH 35V/470uF (Low ESR)
Layout
Wiring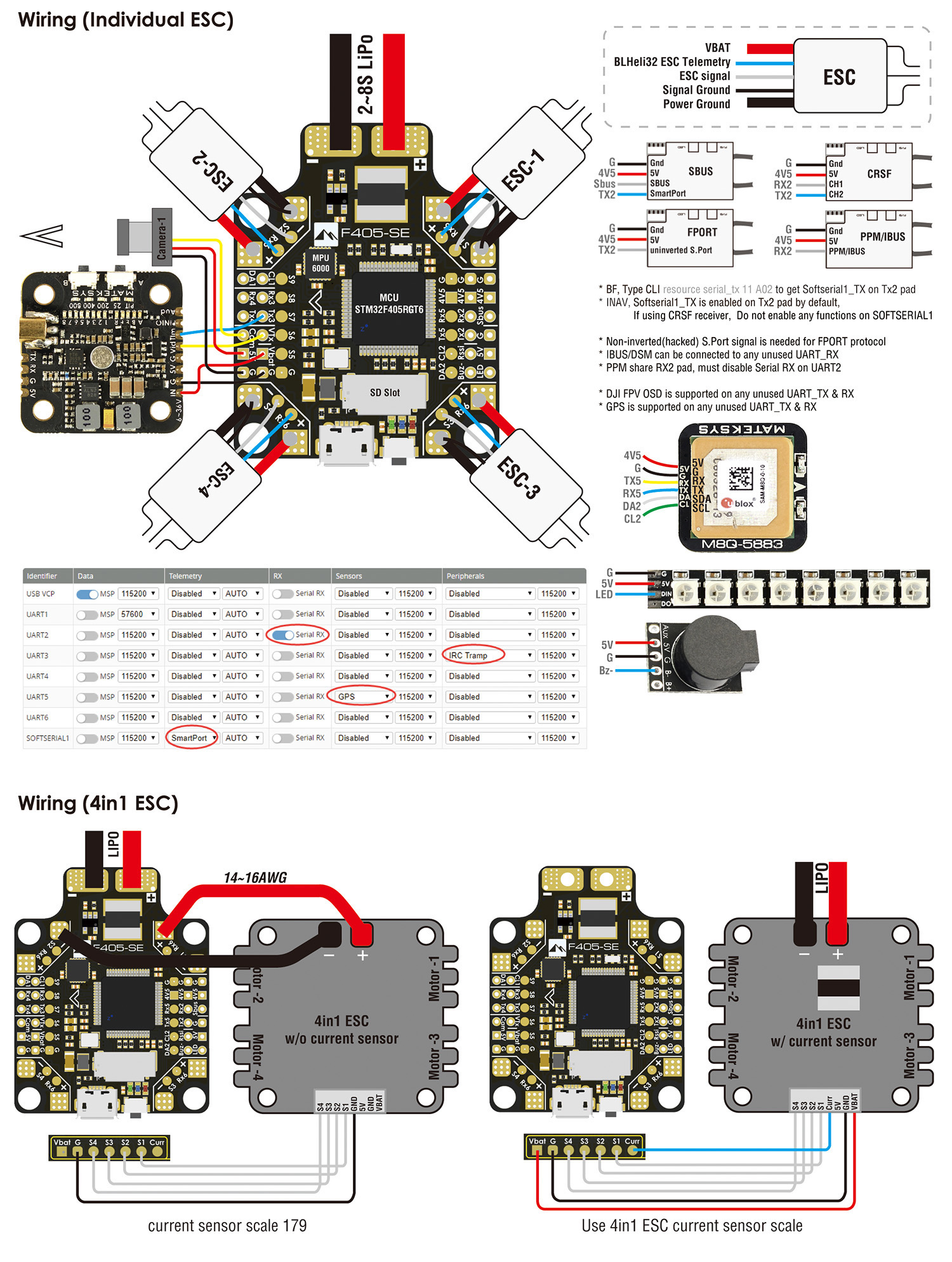 INAV & BetaFlight
PWM
Pad
PIN Name
TIM
INAV Multi-Rotor
INAV Plane
BetaFlight Multi-Rotor
S1
PB7
TIM4_CH2
Motor
Motor
Motor
S2
PB6
TIM4_CH1
Motor
Motor
Motor
S3
PB0
TIM3_CH3
Motor
Servo
Motor
S4
PB1
TIM3_CH4
Motor
Servo
Motor
S5
PC8
TIM8_CH3
Motor
Servo
Motor
S6
PC9
TIM8_CH4
Motor
Servo
Motor
S7
PB14
TIM12_CH1
Servo
Servo
Motor, No DShot
S8
PB15
TIM12_CH2
Servo
Servo
Motor, No DShot
S9
PA8
TIM1_CH1
Servo
Servo
Motor
LED
PA15
TIM2_CH1
2812LED
2812LED
2812LED
ADC
No pad
1K:10K divider builtin
0~36V input
on board battery voltage
INAV Scale  1100
BataFlight Scale  110
No pad
0~3.3V
on board current sensor
Sacle 179
RSSI Pad
0~3.3V
Analog RSSI
I2C
DA2  CL2
I2C2
Magnetometer (HMC5883 /MAG3110 /QMC5883 /IST8310)
DA2  CL2
I2C2
AirSpeed (MS4525)
DA1  CL1
I2C1
OLED 0.96″
DA1  CL1
I2C1
External Barometer MS5611
I2C1
on board Barometer DPS310
UART
TX1 RX1
UART1
Bluetooth
TX2 RX2
UART2
Receiver (CrossFire)
RX2
UART2
Receiver (IBUS, Spektrum DSM/SRXL , SUMD)
RX2
Receiver PPM (disable Serial RX on UART2)
Sbus
UART2
Receiver SBUS,  Built-in inverter on UART2-RX
TX2
Softserial1_TX
Frsky SmartPort
TX3 RX3
UART3
DJI FPV OSD
TX3
UART3
VTX CMS Control (SA, TR)
TX4 RX4
UART4
Spare
TX5 RX5
UART5
GPS
RX6
UART6
ESC Telemetry
BetaFlight
Remap S9 as PWM camera control
resource camera_control A08
PWM camera control doesn't 100% work with every camera due to the camera voltage tolerance.
Remap TX2 as Softserial1_TX
resource serial_tx 11 A02
Remap S7/S8 as servos
resource SERVO 1 B14
resource SERVO 2 B15
Ardupilot
PWM

S1~S9 & LED are Dshot and PWM capable. However, mixing Dshot and normal PWM operation for outputs is restricted into groups, ie. enabling Dshot for an output in a group requires that ALL outputs in that group be configured and used as Dshot, rather than PWM outputs.

If servo and motor are mixed in same group, make sure this group run lowest PWM frequency according to the servo specification. ie. Servo supports Max. 50Hz, ESC must run at 50Hz in this group.

S1
PWM1 GPIO50
PB7  TIM4_CH2
Group1
S2
PWM2 GPIO51
PB6  TIM4_CH1
S3
PWM3 GPIO52
PB0  TIM3_CH3
Group2
S4
PWM4 GPIO53
PB1  TIM3_CH4
S5
PWM5 GPIO54
PC8  TIM8_CH3
Gourp3
S6
PWM6 GPIO55
PC9  TIM8_CH4
S7
PWM7 GPIO56
PB14  TIM1_CH2N
Gourp4
S8
PWM8 GPIO57
PB15  TIM1_CH3N
S9
PWM9 GPIO58
PA8  TIM1_CH1
Gourp4
LED
PWM10 GPIO59
PA15  TIM2_CH1
Gourp5
SERVO10_FUNCTION 120,   NTF_LED_TYPES  neopixel
ADC
No pad
1K:10K divider builtin
0~36V input
on board battery voltage
BATT_VOLT_PIN
BATT_VOLT_MULT
10
11.0
No pad
0~3.3V
on board current sensor
BATT_CURR_PIN
BATT_AMP_PERVLT
11
55.9
RSSI Pad
0~3.3V
RSSI ADC
Analog RSSI
RSSI_ANA_PIN
RSSI_TYPE
15
2
I2C
I2C2
Digital Airspeed I2C
ARSPD_BUS
ARSPD_PIN
1
65
MS4525
MS5525
DLVR-L10D
ARSPD_TYPE
1
3
9
I2C2
Compass
COMPASS_AUTODEC
1
I2C1
on board Baro DPS310
UART
USB
USB
console
SERIAL0
TX1 RX1
USART1
telem1
SERIAL1
TX2 RX2, SBUS
USART2
RC input/Receiver
SERIAL2
TX3 RX3
USART3
GPS1
SERIAL3
TX4 RX4
UART4
GPS2
SERIAL4
TX5 RX5
UART5
can be used for GPS
SERIAL5_PROTOCOL  5
SERIAL5
RX6
USART6
ESC Telemetry
SERIAL6_PROTOCOL  16
SERIAL6
Frsky Smartport Telemetry
non-inverted (hacked) S.Port signal
any spare Uart_TX
SERIALx_BAUD   57
SERIALx_OPTIONS  7
SERIALx_PROTOCOL  4
Important Notes & Tips
*** known issue/bug: BetaFlight doesn't support barometer DPS310 working with STM32F405.
F405-SE has INAV firmware preloaded for QC
INAV2.5.1  downloaded from configurator doesn't support new barometer DPS310. download customized firmware from here.
DPS310 has been supported officially by INAV2.6 and new configurator.
ArduPilot Firmware "MATEKF405-WING″ has supported the onboard barometer DPS310 since Plane-4.0.6 & Copter-4.0.4
inav_2.5.1_MATEKF405SE_DPS310.hex
If Baro can't be detected. In INAV CLI mode, type command
set baro_hardware = DPS310
save
betaflight_4.2.3_MATEKF405SE.hex
known issue/bug: DPS310 will not work even if you type the following CLI command.
set baro_bustype = I2C
set baro_i2c_device = 1
set baro_i2c_address = 118
set baro_hardware = DPS310
save
F405-SE vs F405-CTR
| | | |
| --- | --- | --- |
| SKU | F405-SE | F405-CTR |
| Launch | Aug.2020 | Nov.2017 |
| INAV Target | MatekF405SE | MatekF405 |
| BetaFlight Target | MatekF405SE | MatekF405CTR |
| Ardupilot hwdef | MatekF405-WING | MatekF405 |
| MCU | STM32F405 | STM32F405 |
| IMU | MP6000 | MP6000 |
| BARO | DPS310 | BMP280 |
| OSD | AT7456E | AT7456E |
| BlackBox | MicroSD | MicroSD |
| PWM outputs | 9 | 6 |
| UART | 6 | 5 |
| I2C | 2 | 1 |
| Max.Voltage | 36V(8S) | 30V(6S) |
| Current Sense | 184A | 184A |
| PDB | 4x35A (4x46A) | 4x30A (4x46A) |
| 5V | 2A | 2A |