Flight Controller F411-ONE
STM32F411, MPU6000, BFOSD, SPI Receiver(Frsky_X), VCP+2x UARTs, 4x DShot outputs, PDB, Current Sensor in ONE
Gallery & Info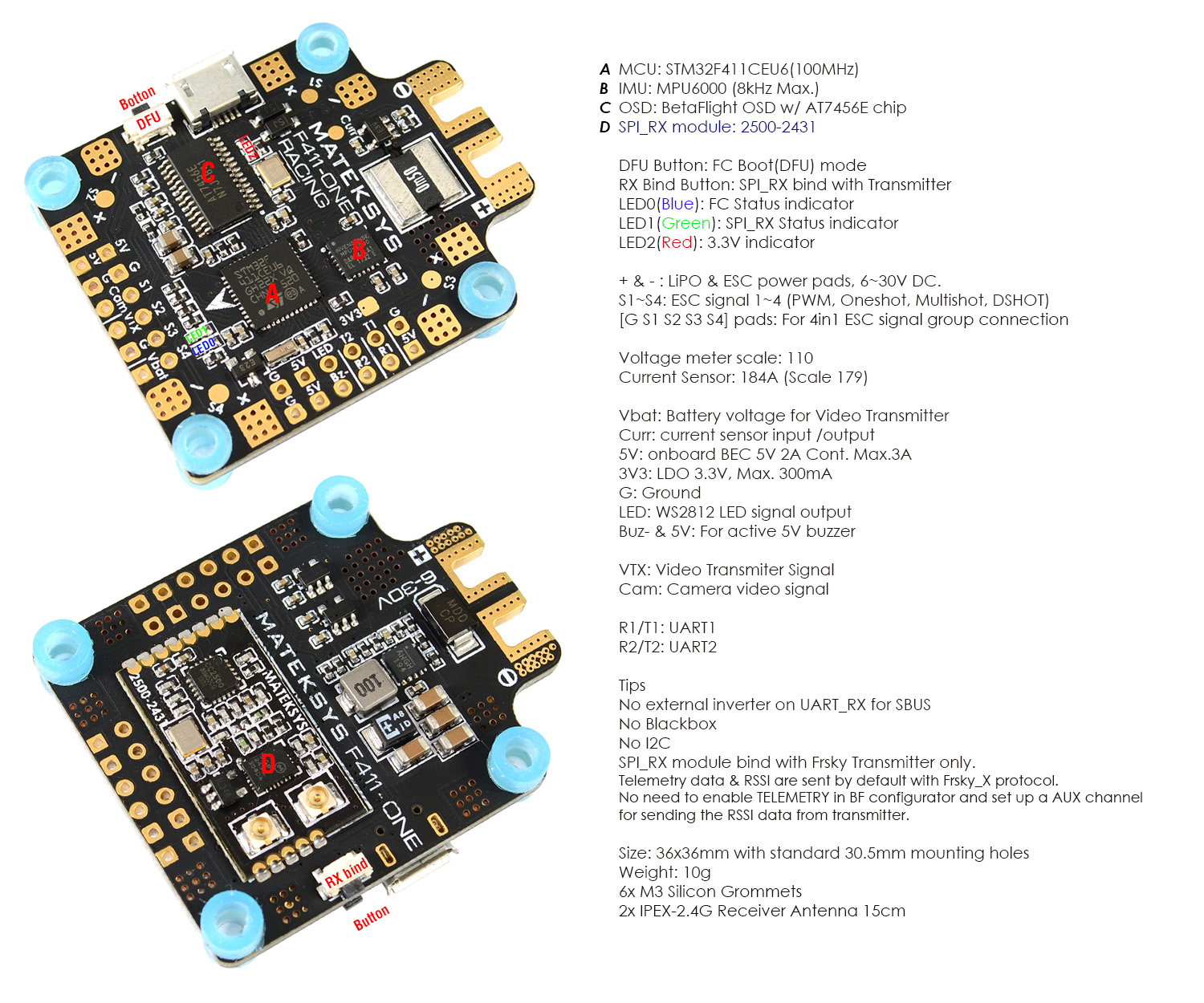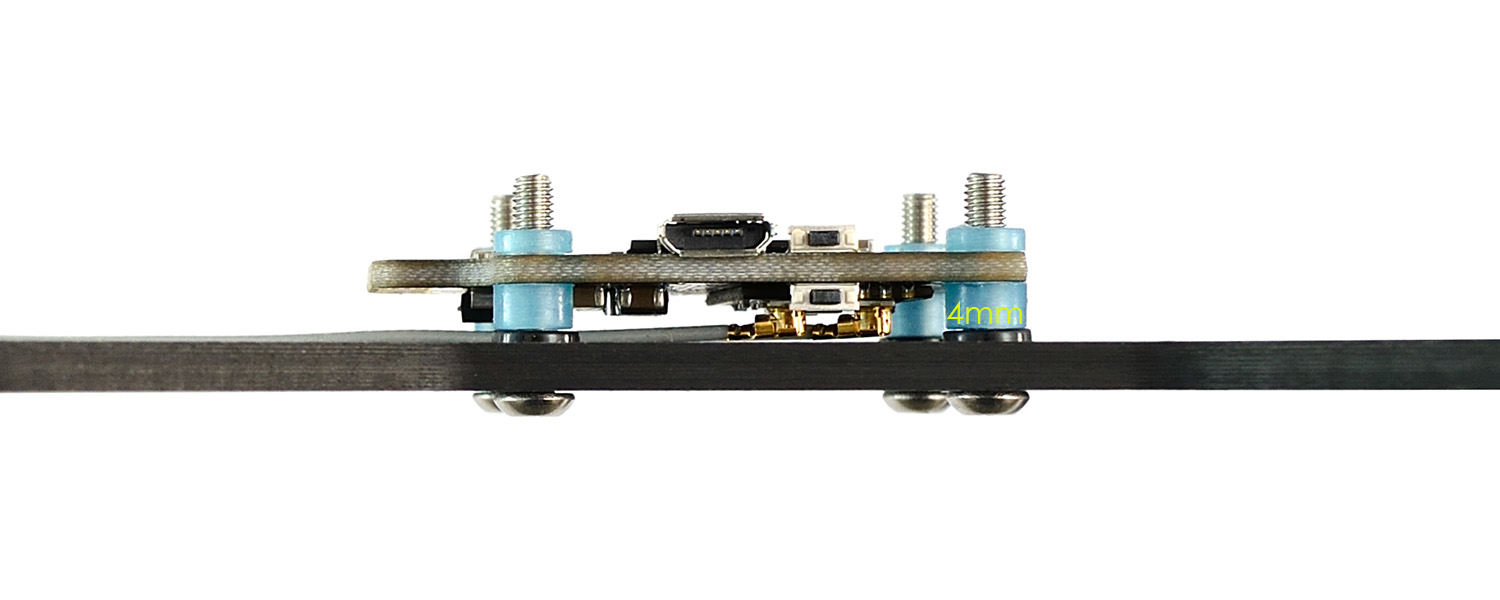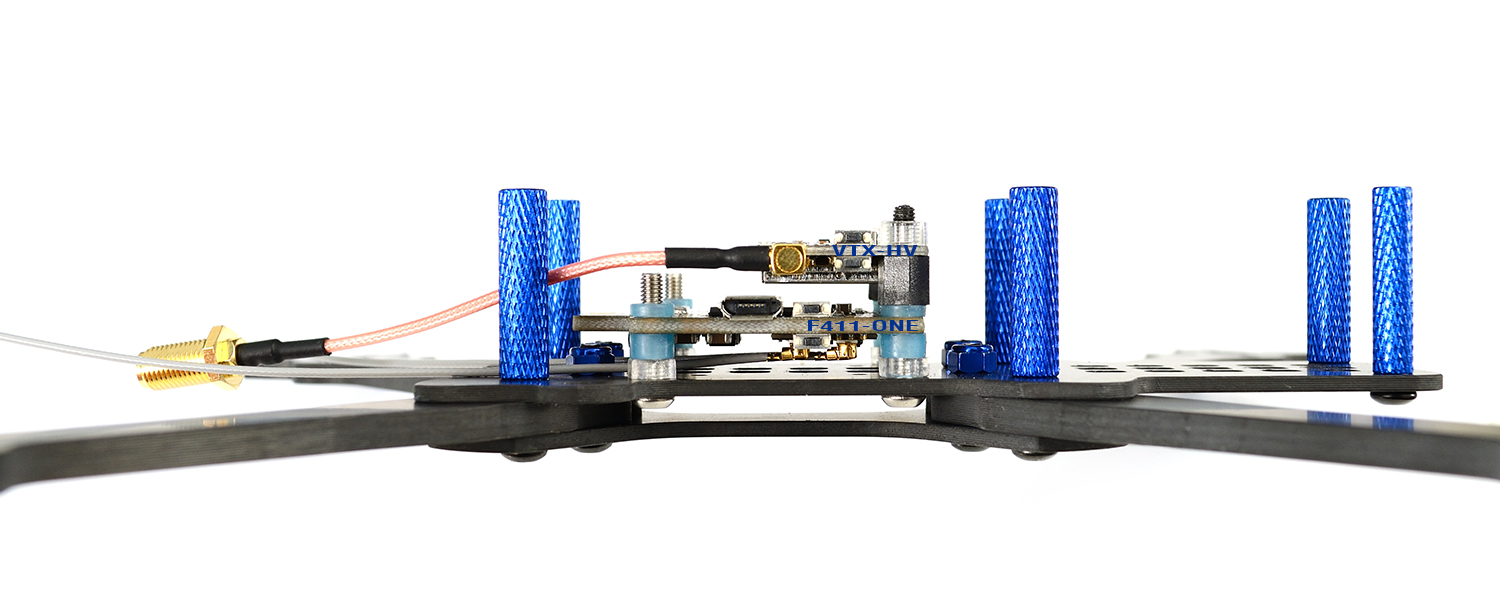 Spec.& Features
MCU: 100MHz STM32F411CEU6
IMU: MPU6000 gyro/accelerometer (SPI)
OSD: BetaFlight OSD w/ AT7456E chip
SPI RX: module 2500-2431, Frsky_X or Frsky_D protocol
VCP, UART1, UART2
WS2812 Led Strip : Yes
Beeper : Yes
PPM: RX2 pad
Blackbox: No
SBUS input: No
I2C1 SDA & SCL: No
PDB Specifications
Input: 6~30V (3~6S LiPo) w/TVS protection
PDB: 4x30A (Max.4x46A)
BEC: 5V 2A cont. (Max.3A)
LDO 3.3V: Max.300mA
Current Sensor 184A (Scale 179)
Battery Voltage Sensor: 1:10 (Scale 110)
3x LEDs for FC STATUS (Blue) , RX (Green) and 3.3V indicator(Red)
4x PWM / DShot outputs
2x UARTs
1x Group of  G/S1/S2/S3/S4 pads for 4in1 ESC Signal/GND
4x pairs of corner pads for ESC Power connections
1x Side-press button for BOOT(DFU) mode
1x Side-press button for RX bind
36x46mm PCB with 30.5mm mounting holes
10g
w/ 1x Rubycon ZLH 35V/470uF (Low ESR)
w/ 6x silicon grommets M4 to M3
w/ 2x IPEX- 2.4G antenna 15cm
Wiring Guide
SPI RX Wiki
First of all, Thanks to the contribution of MIDELIC & BetaFlight Team in the design & development of FRSKY RX compatible codes
---
Pls update your transmitter with last OpenTX firmware.
What is SPI RX
RF module 2500-2431 connected to STM32F411 MCU which communicate via SPI
RF module 2500-2431 bind with Frsky Transmitter only (

D16 of EU LBT firmware is not compatible now

).
SPI RX is supported in BetaFlight firmware 3.3
SPI RX doesn't occupy any UARTs
Telemetry data & RSSI are sent by default with Frsky_X protocol.  No need to enable TELEMETRY in configurator and set up a AUX channel for sending the RSSI data from transmitter.
Telemetry & RSSI work with D16/D8 of NonEU firmware, and D8 of EU firmware
Lua script is supported, work with D16 of NonEU firmware
OscarLiang Blog: https://oscarliang.com/spi-rx-receiver-protocol/
How to bind
1. Power FC via USB or LiPo normally, RX LED(Green) blinking slowly
2. Connect FC to configurator, Choose "SPI RX support" & "Frsky_X" in Configuration Tab–Receiver mode  (They are set by default after flashing)
3. Then
CLI "frsky_bind"(BF 3.x.x) "bind_rx_spi"(BF 4.x) and press ENTER,  the RX LED will come solid.
or Press RX Bind button, RX LED will come solid also
4. Start Transmitter in bind mode, the RX LED will fash slowly – Bind complete.
Frsky_X —  Transmitter D16(CH1-8 9ms or CH1-16 18ms)
Frsky_D —  Transmitter D8(CH1-8)
5. After CLI "defaults" or reflashing,  SPI RX should be bound again.
Tips
How to get Camera Control
Need 200~300ohm resistor to be connected to RX1 or RX2 pad in series
RX1 or RX2 hole —–> 200~300ohm —–> Camera OSD
TX1 or TX2 can be used for VTX control with no confliction
RX1 PA10,  resource camera_control A10
RX2 PA3,  resource camera_control A03
How to use other receiver on F411-ONE
F411-ONE has no SBUS pad.  FPort, CRSF, IBUS are supported.
connect receiver signal to Uart1 or Uart2,
then in configurator -> set "serial rx" on port "uart1" or "uart2"
then select suitable receiver protocol according to the receiver type in "configuration tab"
FPort need non-inverted smartport signal
with BF4.0, CLI bind command "bind_rx_spi"
EU-LBT is supported in latest BF 4.0.x
https://github.com/betaflight/betaflight/blob/master/docs/FrSky%20SPI%20RX.md#frsky-x-lbt