Flight Controller F411-WSE
STM32F411, MPU6000, BMP280, OSD, 2x UARTs, 2x Softserial_TX, I2C, 2x Motors & 4x Servos, 2x BEC, Camera switcher.
We have been starting to use new barometer SPL06 in new batch of production since Dec,2021.
SPL06 and DPS310 perform same, SPL06 can work with SPL06 driver or DPS310 driver in INAV.
SPL06 has silver metal shell, DPS310 has black Nylon shell.
Gallery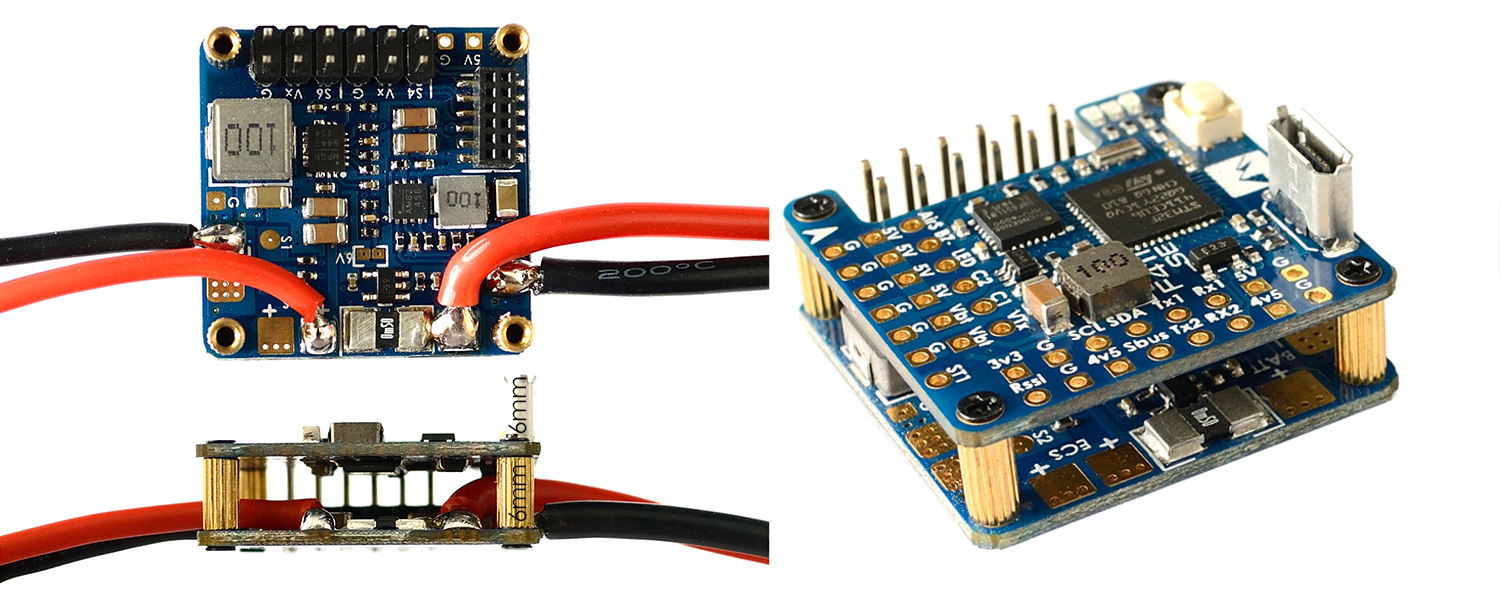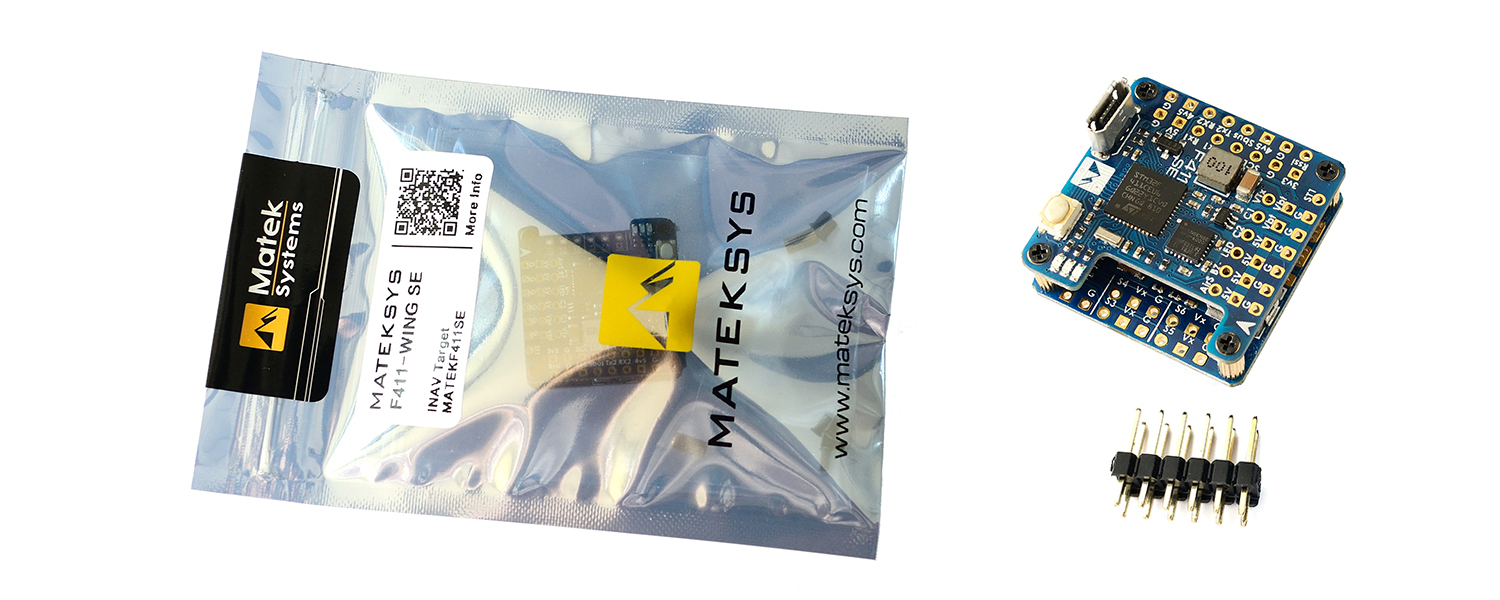 Spec.& Manual
---
FC Specifications
MCU: 100MHz STM32F411CEU6
IMU: MPU6000 (SPI)
Baro: BMP280 (I2C)
OSD: AT7456E (SPI)
Blackbox: No
2x Uarts
2x Softserial-Tx
2x Motors, 4x Servos outputs
1x I2C
4x ADC (VBAT, Current, RSSI, AirSpeed)
3x LEDs for FC STATUS (Blue, Red) and 3.3V indicator(Red)
Switchable Dual Camera Inputs
TR/SA VTX control: Yes
WS2812 Led control : Yes
Beeper output: Yes
RSSI: Yes
Voltage devider for Analog Airspeed sensor: Yes
FC Firmware
PDB
Input voltage range: 6~30V (2~6S LiPo)
2x ESC power pads
Battery Voltage Sensor: 1:10 (Scale 1100)
Current Senor: 78A,  3.3V ADC,  Scale 423
BEC 5V output
Designed for Flight controller, Receiver, Camera, Buzzer, 2812 LED_Strip, Buzzer, GPS module, AirSpeed module
Continuous current: 2 Amps, Max.3A(5seconds/minute)
BEC Vx output
Designed for Servos
Voltage adjustable, 5V Default, 6V option
Continuous current: 3.5 Amps, Max.5A(5seconds/minute)
BEC 3.3V output
Designed for Baro / Compass module/OLED and Spektrum RX
Linear Regulator
Continuous current: 200mA
Physical
Mounting: 24 x 24mm, Φ2mm
Dimensions: 28 x 28 x 14 mm
Weight: 8.5g
Layout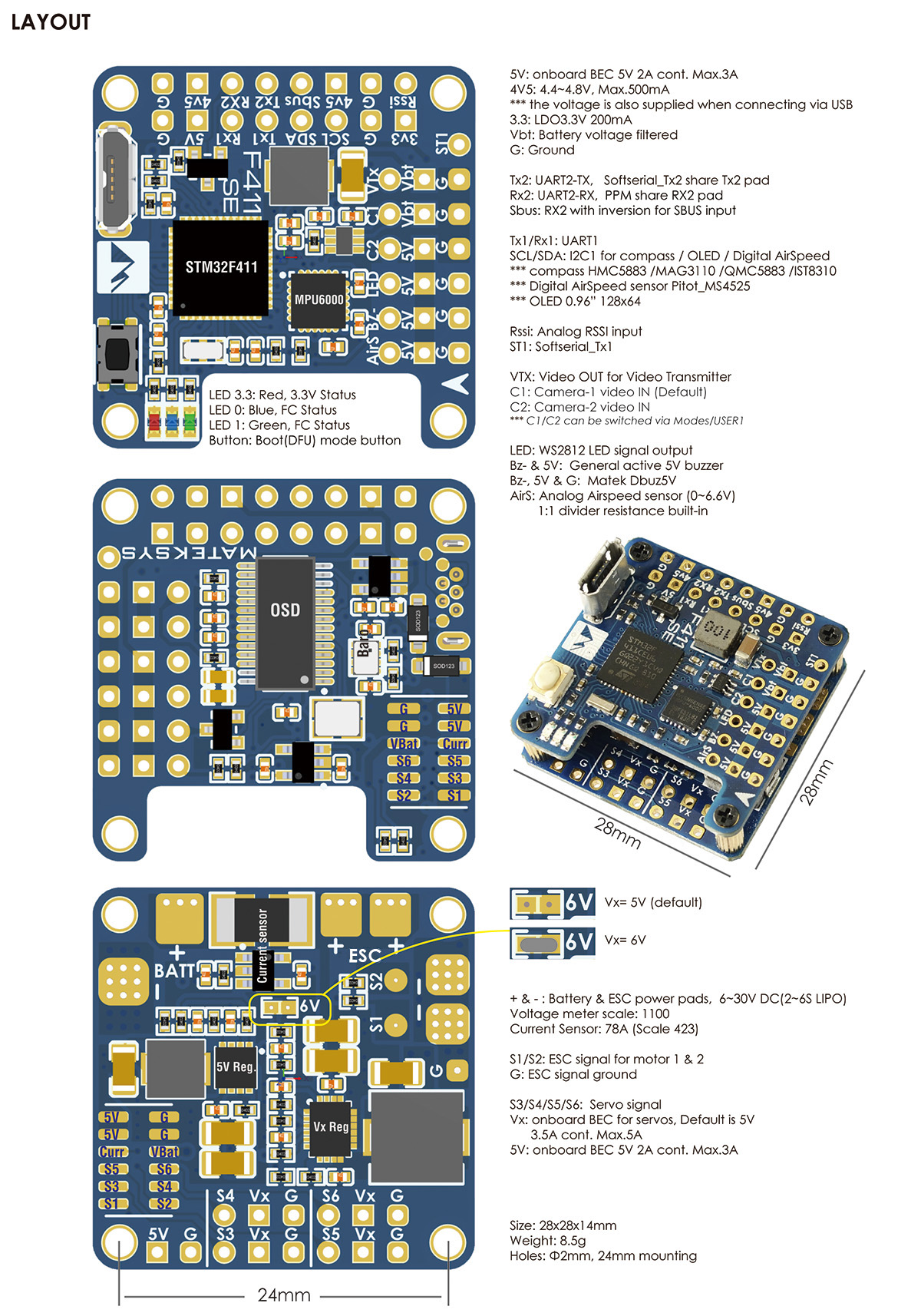 Wiring & Setting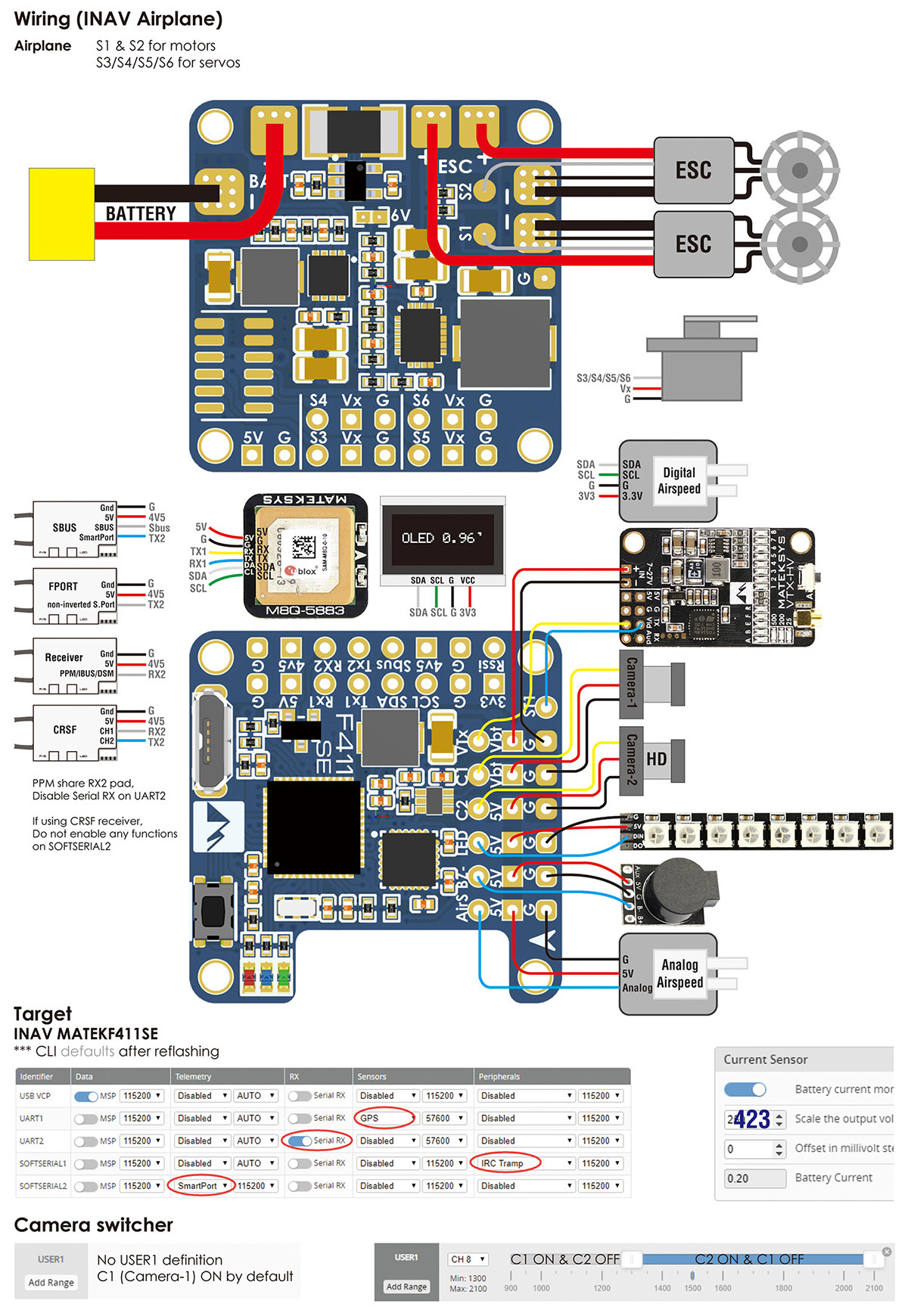 Mapping
| | | | |
| --- | --- | --- | --- |
| INAV MATEKF411SE | Airplane | Flying Wing | Multi-Rotor |
| S1 | Motor-1 | Motor-1 | Motor-1 |
| S2 | Motor-2 | Motor-2 | Motor-2 |
| S3 | Servo | Servo | Motor-3 |
| S4 | Servo | Servo | Motor-4 |
| S5 | Servo | Servo | Motor-5 |
| S6 | Servo | Servo | Servo |
–
| | | |
| --- | --- | --- |
| Magnetometer | I2C (SDA, SCL) | HMC5883 /MAG3110 /QMC5883 /IST8310 |
| OLED | I2C (SDA, SCL) | 0.96″  128*64 |
| AirSpeed Pitot | I2C (SDA, SCL) | Digital Pitot_MS4525 |
| AirSpeed Pitot | AirS pad | Analog AirSpeed sensor |
–
| | | |
| --- | --- | --- |
| SBUS | Sbus pad | Built-in inverter on UART2-RX |
| GPS | UART1 (Tx1 Rx1) | Disable MSP on UART1 |
| Frsky Smartport | ST2 pad | Softserial-TX2 is enabled on TX2 pad by default |
| VTX control | ST1 pad | Softserial-TX1 is enabled on ST1 pad by default |
–
| | | |
| --- | --- | --- |
| FPort | UART2 (TX2) | Need non-inverted Smartport signal(hacked) |
| GPS | UART1 (Tx1 Rx1) | Disable MSP on UART1 |
| VTX control | ST1 pad | Softserial-TX1 is enabled on ST1 pad by default |
–
| | | |
| --- | --- | --- |
| PPM | RX2 Pad | Disable Serial RX on UART2 |
| GPS | UART1 (Tx1 Rx1) | Disable MSP on UART1 |
| VTX control | ST1 pad | Softserial-TX1 is enabled on ST1 pad by default |
–
| | | |
| --- | --- | --- |
| CrossFire | UART2 (Tx2 Rx2) | Do not enable any functions on SOFTSERIAL2 |
| GPS | UART1 (Tx1 Rx1) | Disable MSP on UART1 |
| VTX control | ST1 pad | Softserial-TX1 is enabled on ST1 pad by default |
–
| | | |
| --- | --- | --- |
| Spektrum/IBUS | UART2 (Rx2) | |
| GPS | UART1 (Tx1 Rx1) | Disable MSP on UART1 |
| VTX control | ST1 pad | Softserial-TX1 is enabled on ST1 pad by default |
F411-WSE vs WING seris
F411-WSE
F411-WING
F722-WING
F405-WING
TARGET

MATEKF411SE

MATEKF411
MATEKF722SE
MATEKF405SE
MCU
100MHz
STM32F411
100MHz
STM32F411
216MHz
STM32F722
168MHz
STM32F405
IMU
MP6000
MP6000
MP6000
MP6000
BARO
BMP280
BMP280
BMP280
BMP280
OSD
AT7456E
AT7456E
AT7456E
AT7456E
BlackBox
/
/
MicroSD
MicroSD
Firmware
INAV
INAV
BetaFlight
INAV
BetaFlight
INAV
ArduPilot
Dual Camera In

Yes

/
Yes
/
5V/9V Switcher
/
/
Yes
/
Current
Sense
78A
78A
High precision
132A
104A
Max.Voltage
30V(6S)
30V(6S)
36V(8S)
30V(6S)
Motors
2
2
2
2
Servos

4

5
6
7
UART
2
2
5
6
Softserial

2

1
1
1
Uart Inversion
RX2
RX1
All
RX2
5V
2A
2A
2A
2A
9V
/
/
2A
2A
Vx

3.5A cont.

5A Max.(5s)

3A cont.
5A cont.

6A Max.(5s)

5A cont.

6A Max.(5s)

3.3V
200mA
200mA
200mA
500mA
Size
28×28
41×28
54×36
56×36
Weight
8.5g
12g
25g
25g