Video Transmitter 5.8G VTX-HV w/ BFCMS Control
40CH, 25/200/500mw switchable, 6~27V Input, Traditional button+LED control, BFCMS control via FC Uart_TX, Stack mounting.
MMCX Ver.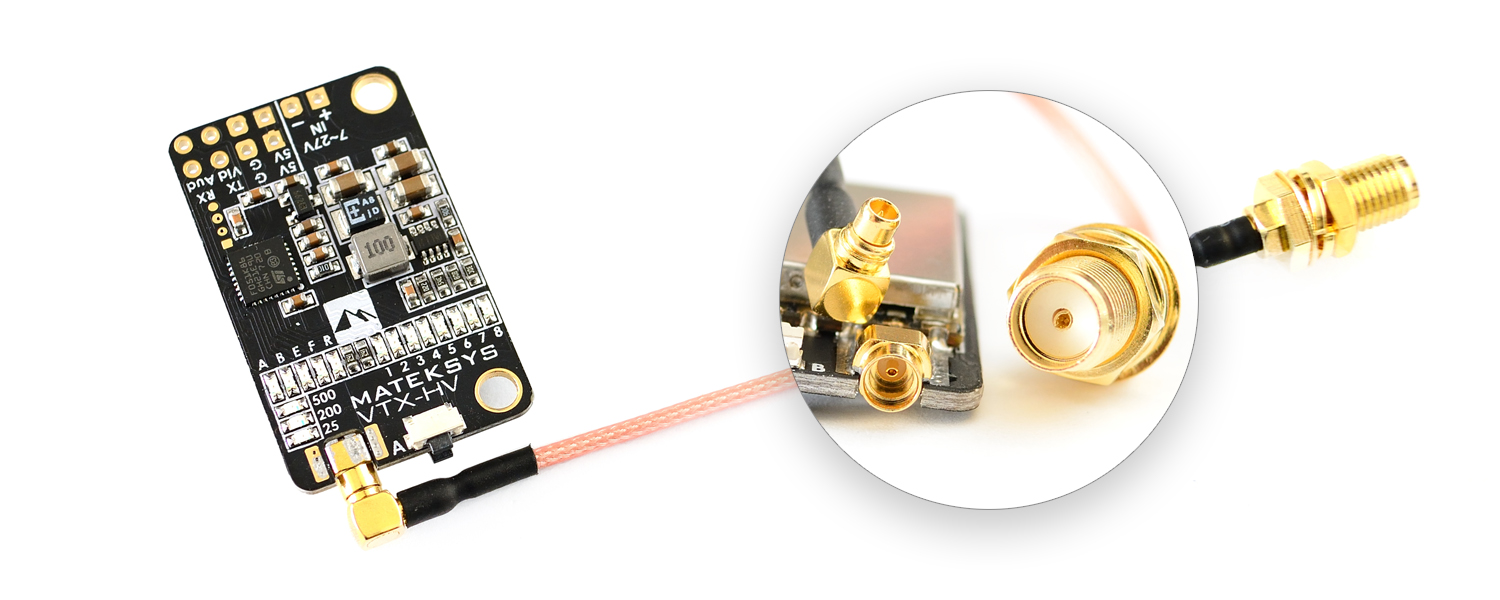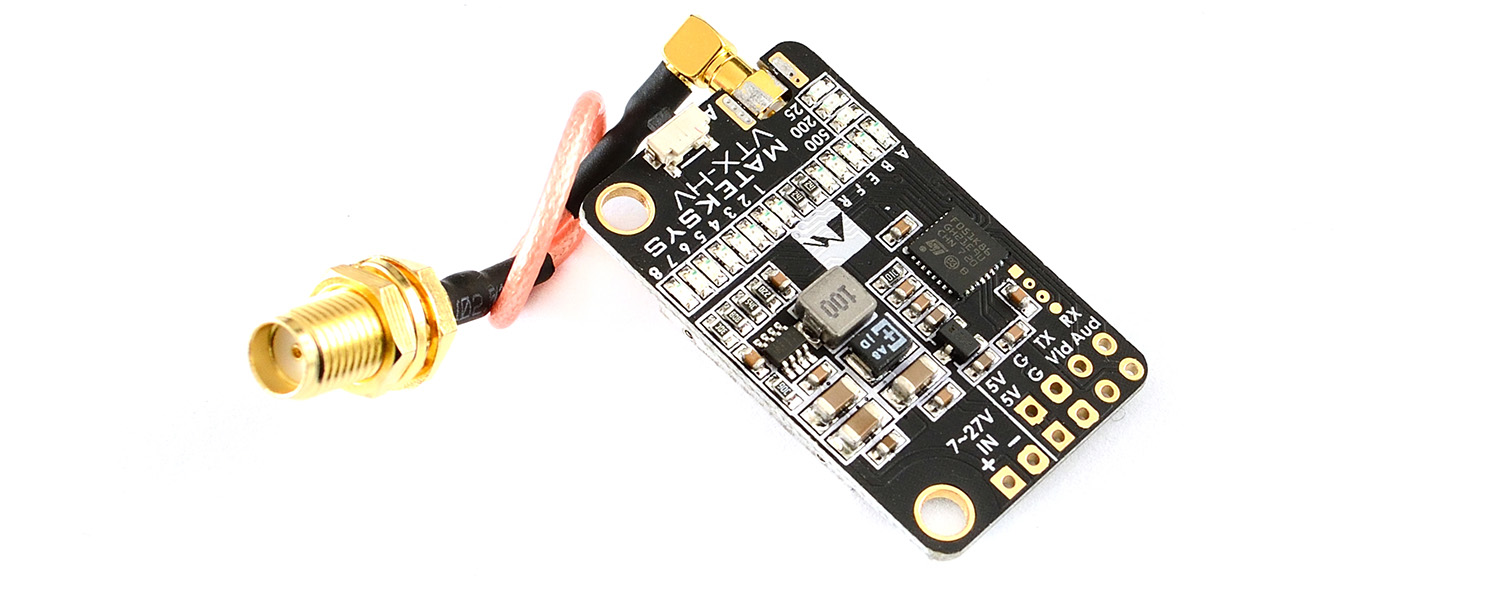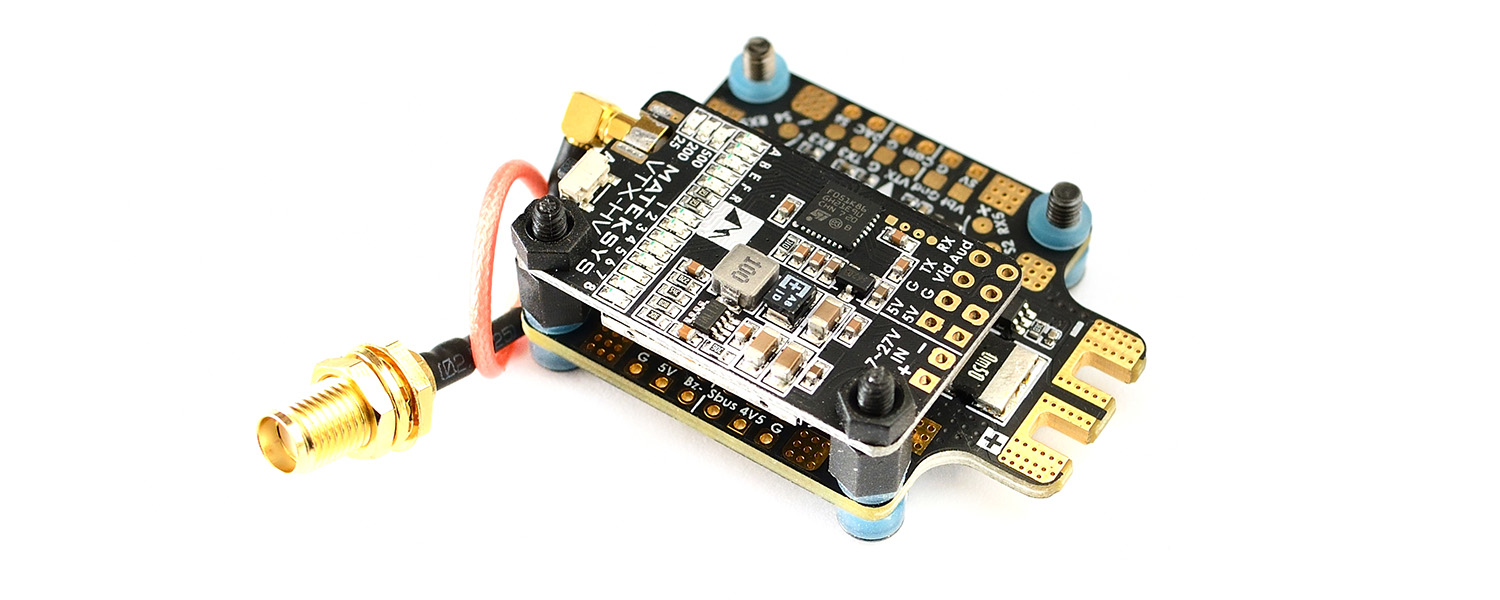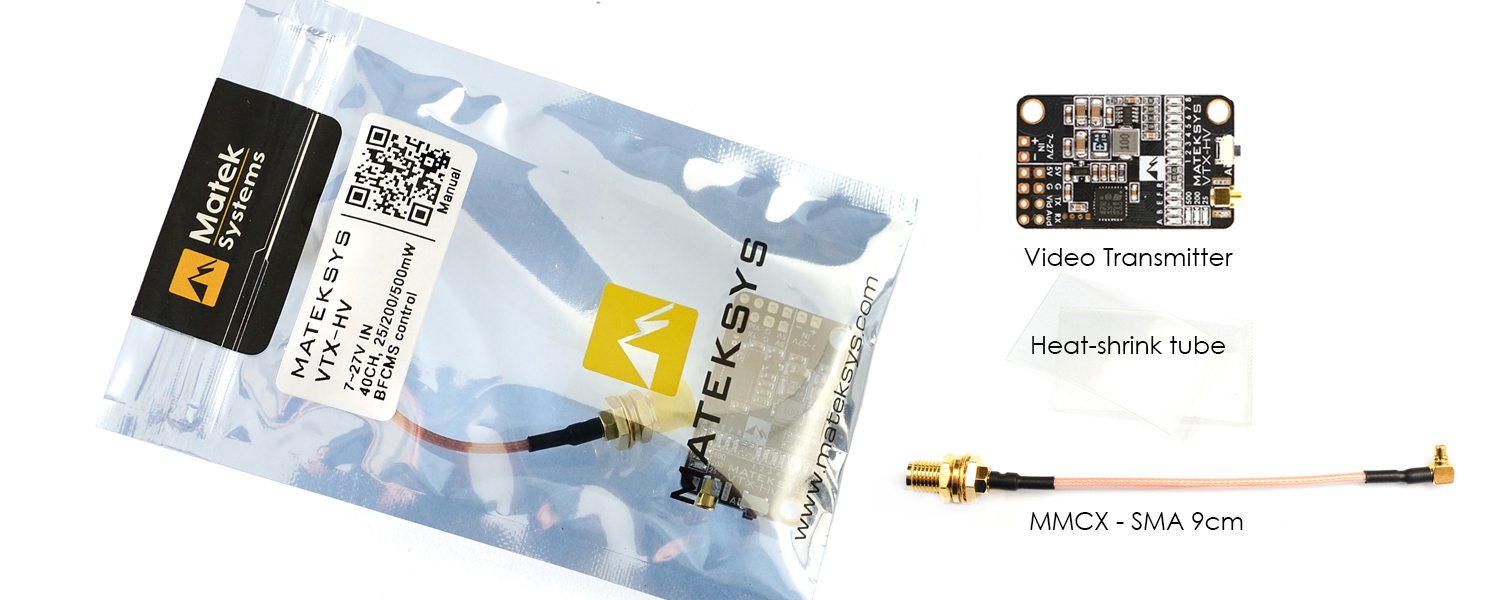 Spec.& Features
Specifications & Features
Input voltage: 7~27V(2~6S LiPo)
40 standard channels, A/B/E/F/R Band
Output Power: 25, 200, 500mW switchable
BEC Output: 5V/1A for Camera or FC
Traditional button+LED control of frequency and power
BFCMS (BFOSD & LUA Script) control via FC UART _TX
Firmware upgradeable
Power Consumption: 3.1W Max. @ 500mW
Video Input Impedance: 75 Ohm
Audio Subcarrier Frequency: 6.5 MHz
RF Connector: U.FL (IPEX)
Video Format: NTSC/PAL
Weight: 6g (Tx only, w/o SMA cable)
Size: 36*22*6.5mm w/30.5mm mounting
U.FL version Packing
5.8G Video transmitter (U.FL)
PVC Heat-shrink tube
U.FL to SMA Female, RG178 cable 10cm
U.FL 5.8G whip antenna, RG178 10cm
MMCX version Packing
5.8G Video transmitter (MMCX)
PVC Heat-shrink tube
MMCX to SMA Female, RG178 cable 9cm
Mounting & Wiring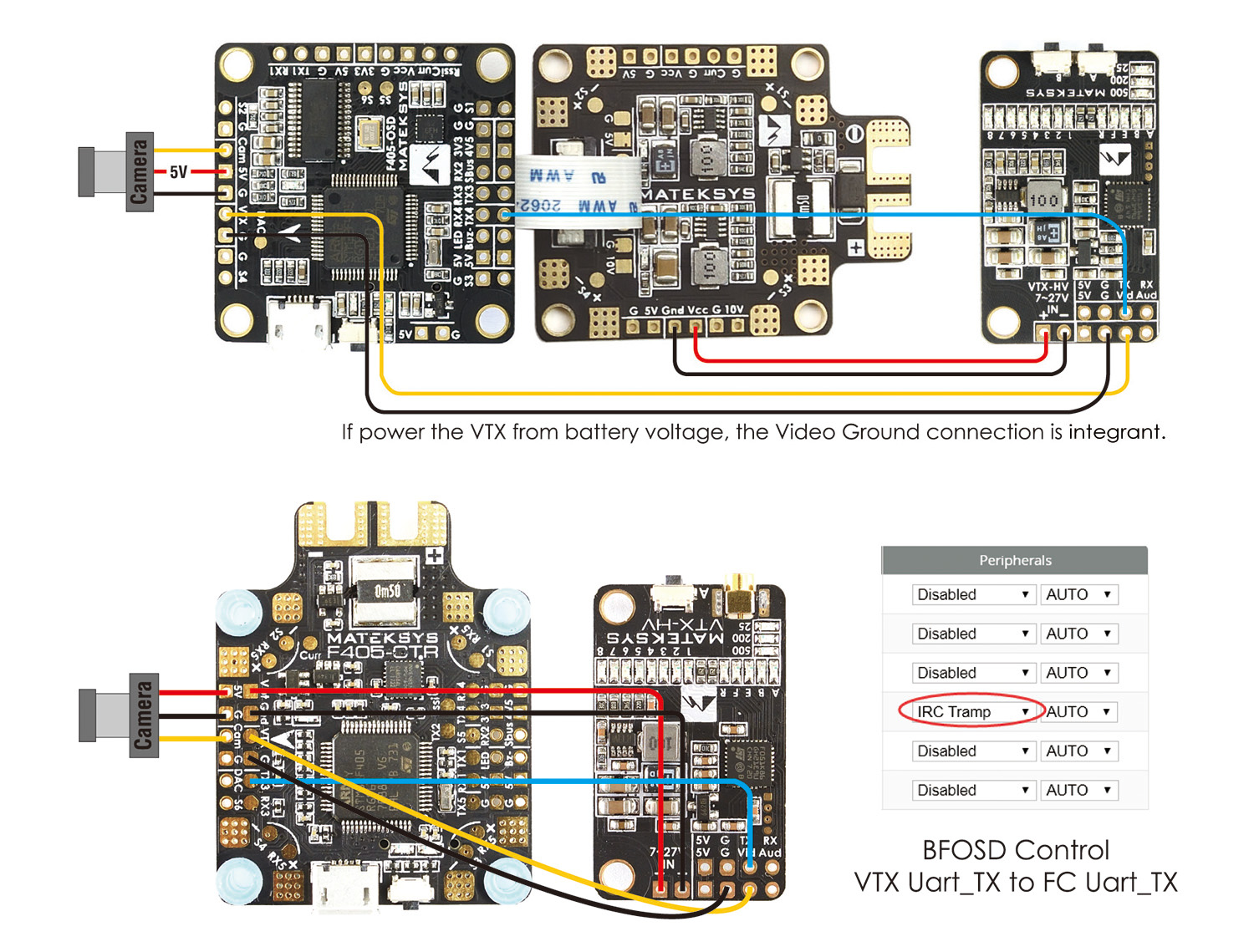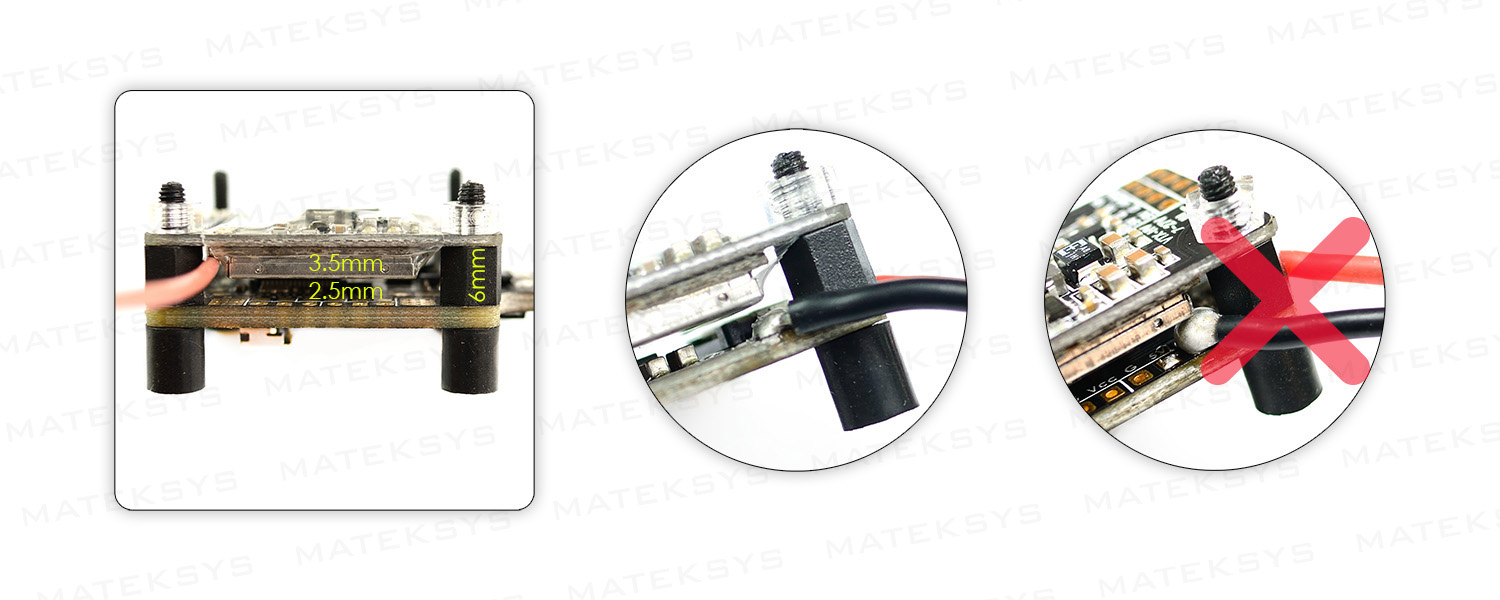 Button, BFOSD & LUA
Default: F4 5800, 500mW
If BFCMS control is enabled, BF will override the button control.  Freq/Power must be changed by OSD/Lua/CLI command.
https://github.com/betaflight/betaflight/wiki/VTX-CLI-Settings
BUTTON

BFOSD
Tips: TX1 of F4 series can't work with Tramp protocol, pls choose TX2~TX6
BF3.2.x Firmware
BFOSD   25mw—VTX  25mw
BFOSD 100mw—VTX  200mw
BFOSD 200mw—VTX  200mw
BFOSD 400mw—VTX  500mw
BFOSD 600mw—VTX  500mw
BF3.3 Firmware & latest,  Pls don't choose 100 or 600 power level.
BFOSD   25—VTX  25mw
BFOSD 200—VTX  200mw
BFOSD 400—VTX  500mw

Frsky LUA Script
OpenTX 2.2.0
XSR_170619 firmware

Firmware & Tool
VTX_Tool
Firmware
V1.4 (Sep.24, 2017)
Fixed BFCMS control on softserial-tx
V1.5 (Nov.15, 2017)
Fixed button command bug (LEDs are turned OFF when button is pressed)
V1.9 (Mar.26, 2018)
Fixed power cycle issue when 100 or 600 power level is selected with BF3.3 CMS control
Reduce the waiting time to 5 seconds before the new setting is saved.